Quality assurance of the programme is organised by the University of Antwerp as coordinating institution. The university uses a variety of quality assurance instruments and involves both internal and external interested parties. Based on the results achieved from the various quality assurance instruments, the educational committees work continuously on improving the quality of education.
To assure the quality of its study programmes, the University of Antwerp has developed a six-year cycle for study programme evaluation.
The programme evaluation complies with the European Standards and Guidelines for Quality Assurance in Higher Education.
The overall quality assurance system of the University of Antwerp has been positively evaluated by an international committee during an institutional audit by the Accreditation Organization of the Netherlands and Flanders (NVAO).
The six-year study programme evaluation cycle consists of three parts:
Systematic care of educational development (SYZO): Systematic processes
Internal process monitoring and guidance (IPS): in year 3 of the cycle
Self-reflection with peer review (ZPR): in year 6 of the cycle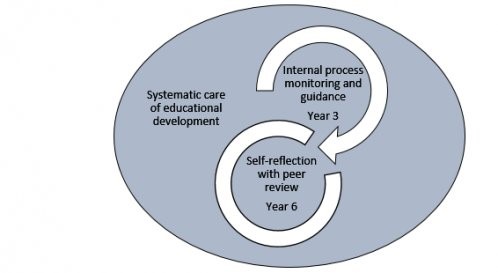 Students, staff and external partners are involved in the systematic evaluation processes.
More information about Quality assurance and innovation at the University of Antwerp can be found here.